Home > Applications > Custom Instrument


Custom Instrument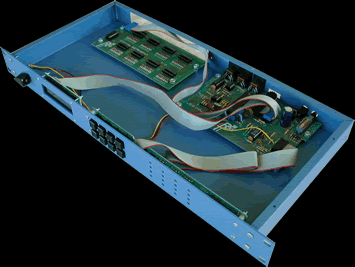 The Custom Instrument integrates up to 64 switches to create a custom MIDI controller. This MIDItool requires an expansion board to host extra logic and sockets to connect the switches. Any kind of normally open momentary switch can be used, from simple push-button types to photodetectors, reed switches, infrared, motion detector, tilt switches...

The Custom Instrument is a favorite tool of Cyberartists-- imagine being able to trigger a note or melody by touching a spot on your body or stepping various places on the floor. Create a master controller for samplers or sound modules. Convert an analog keyboard into a MIDI keyboard...

Mouse over the buttons, LEDs, and potentiometer to see what they do.


HOW DO I...

...SET THE TRANSMIT CHANNEL?
Press the SETUP CHAN key. The MIDI transmit channel
is set with the +/- keys and/or the VALUE fader.

...SET THE NOTE NUMBER OFFSET?
Press the SETUP OFSET key. The note number offset for all note messages is selected using the +/- keys and/or VALUE the fader.

...SET THE VELOCITY FOR ALL NOTES?
Press the SETUP VEL key. The velocity for all Note On messages is set with the +/- keys and/or the VALUE fader.

...CONNECT THE SWITCHES?
Each 16-pin connector on the Custom Instrument board provides an input path for 8 switches. The switches should be connected via a ribbon cable, with a 16-pin male socket on one end to the expansion board. The switch contacts (normally open) should be connected to the other end of the ribbon cable between wires 1 and 16, 2 and 15, 3 and 14, etc.

^ Back to top ^
LCD Screen:



The cursor arrow points to the parameter that will be ;
modified by the +/- keys and VALUE fader.

| CH OFFSET VEL| where nn=1-16, bbb=0-127,
| nn ssss bbb| ssss=-128 to 127

^ Back to top ^